New Mexico Master Gardeners
It's summer in New Mexico! How do we know? By the heat, the lack of cloud cover and the desire for rain. Hot days followed by warm evenings are the norm at this time of year for most of the state. It's definitely a time for everything, including the garden and gardener to kick into maintenance mode, making sure that plants, even established trees and shrubs, get plenty to drink.
Are you interested in plants and gardening? Are you a life-long learner? Do you love to share what you're learning with others? The New Mexico Master Gardener Program has a place for you.
Learn more about our Master Gardeners programs.
Click here to see if your area has a County Master Gardener program.
Veggies at the Grower's Market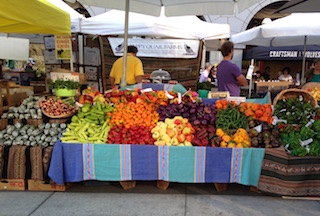 Join Us for the 2018 Statewide Conference!!!
L. Kelly White
Program Manager
Phone: 505-865-7340
Email: lkelly@nmsu.edu